Welcome to Steve's Hot Wheels Guide
Collecting Hot Wheels is one of the most popular but under publicized hobbies in America. So I'm here to get the word out with this website. From the new to the veteran collector, please feel free to look around. There is lots of Hot Wheels information here. If there is something you don't see and would like added please e-mail me and I will post it.

I am a new collector. I started collecting Hot Wheels about 6 months ago. I'm saving them for my three year old son when he gets older. I started when I met this guy whose whole house was filled with Hot Wheels memorabilia. He showed me what some of his Hot Wheels were worth. Boy, I wish I would have kept some of the Hot Wheels I used to play with as a kid!
The Ultimate Hot Wheel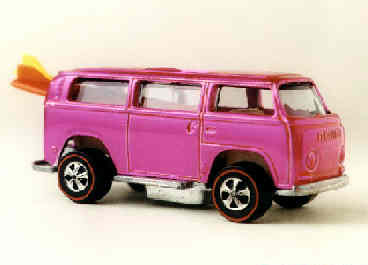 When asked what car they would most like to have, Hot Wheels collectors' almost unamiously say they want a "Rear Loading Beach Bomb". This dream came true for Bruce Pascal. When the deal closed a new record was set for the most money to change hands in the sale of a single Hot Wheels vehicle. The one-of-a-kind, hot-pink die-cast protoype of a 1969 VW Beach Bomb went for the price of $72,000. Click here to read the whole article.